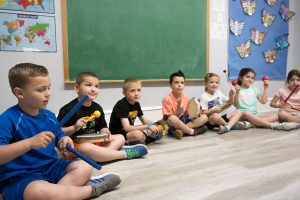 Ms. Jennifer Hunter, a certified music teacher, leads our K-8th grade program. The mission of our music curriculum is to offer all of our students instruction that will enhance their knowledge and promote the love of music.  In the first semester there is emphasis on learning songs and choral skills. The students prepare for performances at Halloween and Christmas. The learning and the fun of performing for our parents help to build students' confidence when performing in front of an audience
In the second semester, the curriculum focus is on music appreciation. The curriculum is designed so that each grade level covers age-appropriate information about music history, the orchestra, music theory, and composers. The students are introduced to music that encompasses each of the eras from 1600 to current times. Ms. Hunter includes opera, ballet, musicals and orchestra performances. Our music room is equipped with a sound and visual system that enhances the teaching of the curriculum, so that students can see, hear, and participate with appropriate materials to enjoy this learning experience.
Glee Club
In prior years, we had a glee club for students in 3rd through 8th grade. We will continue this tradition. Glee Club meets after school on Tuesday from 3:30 to 4:30. Glee Club gives students a chance to join with other students to enjoy learning and singing at our school performances. This club has also performed at nursing homes and at the Fine Arts Fiesta.
Dance and Drama Club
Dance and Drama club will be on Tuesdays for grades K-2.
About Ms. Hunter
Jennifer has a Bachelor's Degree in Music Education and a Master's in Piano Pedagogy from West Chester University. She has been teaching private piano and voice lessons for many years prior to joining our staff in September of 2019. She also has directed and played keyboards for musicals at many of the local theaters including the Little Theater of Wilkes Barre, Music Box, Scranton Cultural Center, and Misericordia University.  Jennifer is also the parish administrator, organist, and choir director at Prince of Peace Episcopal Church in Dallas, Pa. Jennifer has added a wonderful dimension to our music program with her knowledge and dedication to our students. She also offers private piano and voice lessons.
"Preparation for the creative economy: Investing in creative education can prepare students for the 21st century workforce. The new economy has created more artistic careers, and these jobs may grow faster than others in the future." —20 Important Benefits of Music In Our Schools, July 2014
To learn more about benefits of music in our school, visit:
http://www.nafme.org/20-important-benefits-of-music-in-our-schools/